Resources
Beaches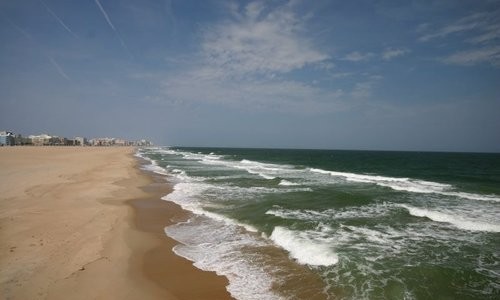 Main Public Beach
From the Inlet to the Delaware line, the coastline is Ocean City's most popular spot! Whether you want to play in the surf or in the sand, this smoke-free beach is paradise! Lifeguards are on duty from 8 am to 5 pm every day. There are staff stationed every few streets right on the beach if you need to rent chairs or umbrellas.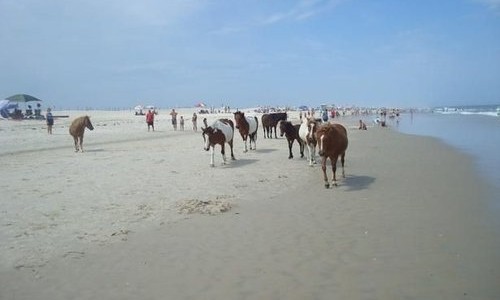 Assateague Island
This national park offers not only a beach, but a wildlife haven! Watch the famous Assateague ponies in their natural habitat and enjoy all the fun Assateague has to offer! From campsites to hiking trails to paddleboats and more, there is so much to do at this beach!
Location: 7206 National Seashore Ln, Berlin, MD 21811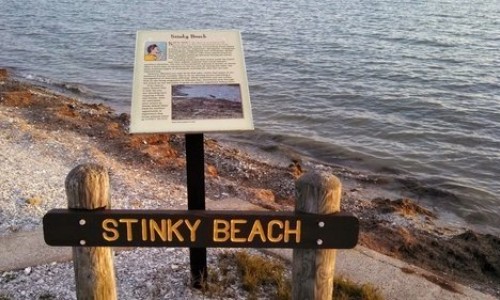 Stinky Beach
Located at the end of Old Bridge Rd. off of Rt. 50 in West Ocean City, this beach is a favorite of fisherman. Situated in Homer Gudelsky Park, this little beach is perfect for kids and dogs! The water is shallow (except for a few fishing holes) and the beach is sandy. There are no lifeguards on duty.
Boardwalk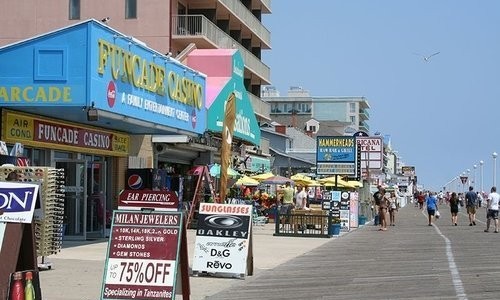 The Boardwalk
One of Ocean City's most famous attractions, the 3-mile Boardwalk has everything! Visit all the shops and snack at some popular eateries before heading down to the Inlet for amusement park fun! There are plenty of great places to stay along the Boardwalk as well.
No dogs are allowed on the Boardwalk from May 1st through September 30th.
Bikes are allowed from 2 am to 10 am (Memorial Day through Labor Day) and anytime from October through April.
Parking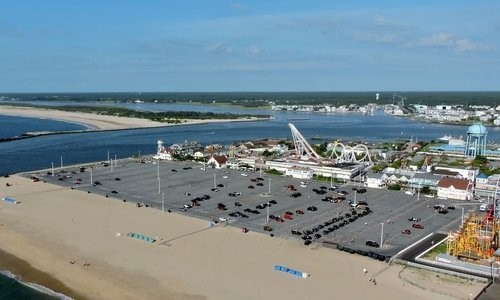 Free Public Parking
North End Transit Center, St. Louis Ave
Parking
Multiple locations:
Inlet parking lot- 0-30 minutes is free, $3 every hour. Meter parking located in parking lots around town and alongside streets ($2 per hour, 12-hour max):

Worcester St., between Baltimore Ave. & Philadelphia Ave.
Somerset St. & Baltimore Ave.
Dorchester St. & Baltimore Ave.
N. Division St. & Baltimore Ave.
4th St. & Baltimore Ave.
1st. St. & St. Louis
61st St. & Coastal Hwy., bayside

100th St., bayside (This is also a boat trailer-approved lot. Fee for this lot is $10 a day or $50 a week, April to Oct. 18)
Public Amenities
Walmart Supercenter
11416 Ocean Gateway, Berlin MD (Open 24 hours)
Food Lion
9936 Stephen Decatur Hwy (Open 24 hours) or 11801 Coastal Hwy (Open 24 hours)
Village Market
1816 Philadelphia Ave (Open until 2 am)
Mitchell's Market
401 Philadelphia Ave (Open 24 hours)
Minit Market
3107 Philadelphia Ave. (Open until 12 am)
WAWA
12502 Ocean Gateway or 12001 Coastal Hwy
7-Eleven
2611 N Philadelphia Ave (Open 24 hours)
Rite Aid Pharmacy
Gold Coast Mall 11401 Coastal Hwy or 12524 Ocean Gateway
CVS
1611 Philadelphia Ave, 12510 Ocean Gateway
Public Restrooms
Boardwalk at Worcester Street, Boardwalk at Caroline Street, Boardwalk at 9th Street, Boardwalk at 27th Street, South Division Street Transit Center.
Resourceful Sites
Transportation
Beach Bus
$3 all-day pass, $1 one way; runs 24 hours a day, approx. every 20 minutes
Boardwalk Tram
$3 per person for one way; runs 11 am to midnight every day and 10 am to midnight on holidays
OC Water Taxi
Travel by boat around the bay; $10 per person for one way; 561-512-ASAP
Shuttle
Call 410-289-8686 for a ride around town to all your favorite places!
Hear what people are saying about us...
It's our 3rd year renting from Shoreline. They have been nothing less than accommodating and courteous to my family! Our condo is always clean and ready for us when we arrive. The staff is always friendly and helpful. I can't wait to come back next year and continue to rent from Shoreline Properties!
I've rented with this company every time I've come down to OC and always found the experience enjoyable. The staff has always been very helpful and I would definitely recommend them. I also recommend getting the linen package so you don't have to worry about bringing that stuff with you.
I have used Shoreline services for around 6 months now, with different properties in Ocean City, MD. I can say that I have always received an excellent service. They are professional, respectful, satisfying, and always accommodating my needs. I can honestly recommend their services and I am happy to have met the manager and her team and evaluate their services as a 5 stars plus.
I have been going to Ocean City, MD every year since I was little. The best and only place we rent from is Shoreline Properties. We usually get a condo on the beach or on the bay for a week. I have stayed at a different condo every year and they have all been spotless. We go right after Labor Day when it's still beautiful out and less crowded. I can't wait till this Sept! The prices are beyond reasonable! I love it!
Prices are better than other rental companies and other services are equal to all other rental companies in Ocean City, MD. We have used Shoreline and just about every other rental company as we come to Ocean City every year. Shoreline has always been good about resolving issues immediately. I prefer Shoreline and will use them again as their prices are reasonable and they do try to resolve issues whenever I have had one through the years.
We are owners of an Ocean Hideaway condo and we chose Shoreline because of the owners and staff. Every time we needed them they answered and took ownership of the smallest issue. We take great pride in the product that we offer and Shoreline helps us in keeping a high standard.
Read More