Worcester House
Search By Building: a feature provided by Shoreline Properties for those who want to get to the beach fast and know exactly where they want to stay! Simply click on the property of your choice below to access availability calendars, rates, and property information.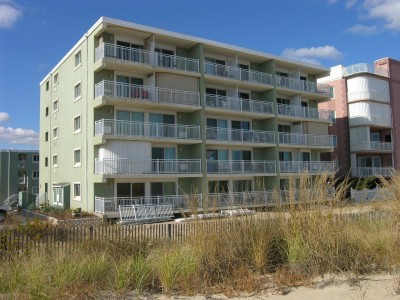 Worcester House 504 is one of Ocean City's finest vacation rentals and one of our homiest. The decor is stylish and comfy. Beautiful floral print is in almost every room. The balcony offers a marvelous view of the ocean and a great place to spy for dune bunnies. This condo is the perfect place for you and your family to call home for a few days. Come stay at Worcester House and make wonderful memories that will last you and your family a lifetime! This property is non-smoking and does not allow pets. It does not rent to anyone under 25.
Amenities
WORCESTER HOUSE 504 comes with following features and amenities: unit air conditioning, stack washer & dryer, heat, 1.5 bathroom, cable TV, balcony facing east, balcony furniture, refrigerator, dishwasher, microwave, coffee maker, toaster, disposal, 1 parking space, 1 TV, 2 unit acs, cable internet.
This is non smoking unit. No pets allowed. Not handicap accessible.
Worcester House Building
Small Ocean Front masonry building located on 51st street midtown location. Closer to activities and restaurants.
PLEASE NOTE: All our properties do not allow group rentals to guests under the age of 25. Therefore, online bookings for group rentals will NOT be honored.