Tiburon
Search By Building: a feature provided by Shoreline Properties for those who want to get to the beach fast and know exactly where they want to stay! Simply click on the property of your choice below to access availability calendars, rates, and property information.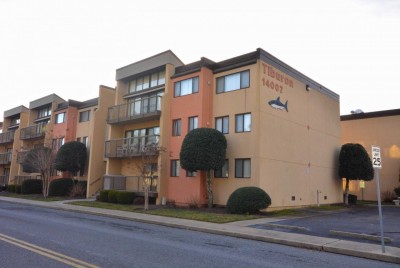 Tiburon 3-B is one of Ocean City's popular vacation rentals. This two-bedroom, two-bathroom 1,000 sq ft ground floor condo sleeps up to nine guests (four adults) in a quiet bayside family-friendly neighborhood. You can relax on the balcony, stroll the neighborhood on bike or foot with very little traffic, and enjoy the outdoor pool and tennis courts! The ocean is only a short distance away. This condo is modestly decorated with a fully-furnished kitchen (updated appliances), televisions in every room, two DVD players, free WiFi and central air conditioning. A coin-operated washer/dryer is available right outside of this unit. This condo is the perfect place for you and your family to call home for a week. Come stay at the Tiburon and make wonderful memories that will last you and your family a lifetime! This property does not allow pets or smoking. No group rentals for guests under 25 permitted.
Amenities
Tiburon 3B comes with following features and amenities: central air conditioning, free wifi internet, coin operated laundry room, 2 bathrooms, refrigerator, dishwasher, microwave, coffee maker, toaster, 3 TVs, cable TV, 1 stove, 2 parking spaces.
This is non smoking unit. No pets allowed. Not handicap accessible.
Tiburon Building
PLEASE NOTE: All our properties do not allow group rentals to guests under the age of 25. Therefore, online bookings for group rentals will NOT be honored.