Ocean Side 136
Search By Building: a feature provided by Shoreline Properties for those who want to get to the beach fast and know exactly where they want to stay! Simply click on the property of your choice below to access availability calendars, rates, and property information.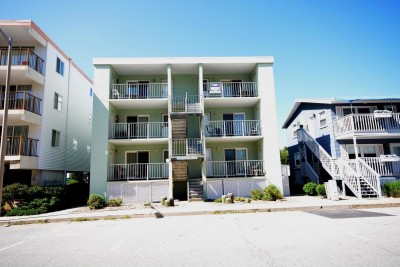 Ocean Side 136 3 is one of Ocean City's finest vacation rentals and seamlessly crosses the idea of home and beach paradise. This condo features a newly remodeled master bathroom. The furniture styles are homey and familiar, but the patterns are beachy and fun. Natural light set the condo aglow, shining through sliding glass doors and windows. Breathe in the salty sea air from the balcony and anticipate fun days at the beach. This condo is the perfect place for you and your family to call home for a few days. Come stay at Ocean Side and make wonderful memories that will last you and your family a lifetime! This property does not allow pets or smoking. It does not rent to anyone under 25.
Amenities
OCEAN SIDE 136 3 comes with following features and amenities: unit air conditioning, free wifi internet, full size washer & dryer, 2 bathrooms, iron & board, balcony facing south, balcony furniture, refrigerator, dishwasher, microwave, coffee maker, toaster, disposal, icemaker, 2 parking spaces, 4 TVs, 4 unit acs, 1 stove, cable TV, ceiling fan.
This is non smoking unit. No pets allowed. Not handicap accessible.
Ocean Side 136 Building
Stroll just a half block to the beautiful beach from this small six unit masonry uptown building. Relax on the roomy balcony or cool off with the unit air. Outside shower and 2 car parking. Great location for the many restaurants, mini golf, shopping, the movies or the gem of Northside Park.
PLEASE NOTE: All our properties do not allow group rentals to guests under the age of 25. Therefore, online bookings for group rentals will NOT be honored.