Gullway Villa
Search By Building: a feature provided by Shoreline Properties for those who want to get to the beach fast and know exactly where they want to stay! Simply click on the property of your choice below to access availability calendars, rates, and property information.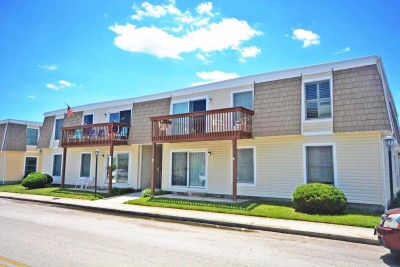 Gullway Villa 103 is one of Ocean City's finest vacation rentals and is located in a peaceful, family-friendly neighborhood. The condo is spacious and stylish. Natural light bathes the condo through glass doors and windows. The wood-paneled walls look so much like a ship, you'll feel like the captain of your family! There are plenty of fun bonding activities here: enjoy a movie, go for a walk or bike ride, or swim in the pool. This condo is the perfect place for you and your family to call home for a week. Come stay at Gullway Villa and make wonderful memories that will last you and your family a lifetime! This property is non-smoking and does not allow pets. It does not rent to anyone under 25.
Amenities
GULLWAY VILLA 103 comes with following features and amenities: central air conditioning, wifi internet, full size washer & dryer, heat, 1 bathroom, cable TV, HBO channels, balcony facing north, refrigerator, dishwasher, microwave, coffee maker, toaster, disposal, 1 parking space, 1 TV, balcony furniture.
This is non smoking unit. No pets allowed. Not handicap accessible.
Gullway Villa Building
This downtown, fully air conditioned bayside villa complex offers ground floor units with plenty of outdoor seating around the pool or second story units with a balcony also enjoying the outdoor pool privileges. Only five blocks to the beach and boardwalk. Parking space for one car. Also has an outside shower. Close to Jolly Roger for the amusements and the water parks. Bikes available at the end of the boardwalk for your morning ride. Convenient to all that Ocean City has to offer.
PLEASE NOTE: All our properties do not allow group rentals to guests under the age of 25. Therefore, online bookings for group rentals will NOT be honored.
Gullway Villa building has following features and amenities: outside shower, outdoor pool.