Fairhaven
Search By Building: a feature provided by Shoreline Properties for those who want to get to the beach fast and know exactly where they want to stay! Simply click on the property of your choice below to access availability calendars, rates, and property information.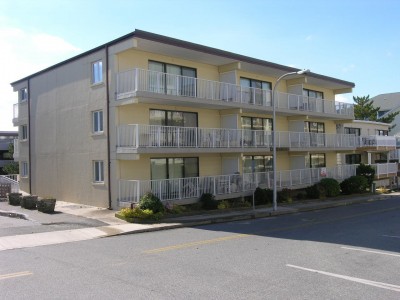 Fairhaven 301 is a homey, inviting condominium located in downtown Ocean City. This two-bedroom, two-bathroom condo has a furnished balcony overlooking a peaceful, family-friendly neighborhood with a glimpse of the beach. This unit is the perfect place for you and your family to call home for a week! Fairhaven 301 is one of Ocean City's finest vacation rentals. The living room is spacious and pastel-colored, furnished with comfy couches and a television. The larger couch doubles as a queen-size sleep sofa. The sliding balcony doors allow plenty of natural light to brighten the room. Right off the living room is a small dining area, perfect for cozy meals with the family. Next to the dining area is a wood-paneled kitchen with a wide counter top, just right for grabbing a quick bite. Down the hall is the master bedroom with a queen-size bed, its own personal television, and a private bathroom. The second bathroom has a double bed and a twin bed, as well as its own personal television. The second bathroom is located in the hallway. This property comfortably sleeps up to six people, so bring the whole family! Unit 301 has the following amenities: central air conditioning, two parking spaces, three TVs, one DVD player, cable TV, stack washer and dryer, refrigerator, microwave, coffee maker, toaster, disposal, stove, dishwasher, and an outdoor foot shower. This property is non-smoking and does not allow pets. No group rentals for guests under 25 permitted. There is no Internet at this location. Come stay at Fairhaven and create wonderful memories to last you and your family a lifetime!
Amenities
FAIRHAVEN 301 comes with following features and amenities: central air conditioning, stack washer & dryer, 2 bathrooms, balcony facing north, balcony furniture, refrigerator, dishwasher, microwave, coffee maker, toaster, disposal, 2 parking spaces, 3 TVs, 1 stove, cable TV, wifi internet.
This is non smoking unit. No pets allowed. Not handicap accessible.
Fairhaven Building
Ocean block and near downtown, this 3 story masonry building with central air has comfortable front and rear balconies so you can enjoy the bay or ocean views. An easy walk to the beach. Two off street parking spaces just behind the building and an outside foot shower. Close to the new Performing Arts Center, bayside dining, water sports and an amusement park.
PLEASE NOTE: All our properties do not allow group rentals to guests under the age of 25. Therefore, online bookings for group rentals will NOT be honored.
Fairhaven building has following features and amenities: outside foot shower, outside shower.