Baywatch III
Search By Building: a feature provided by Shoreline Properties for those who want to get to the beach fast and know exactly where they want to stay! Simply click on the property of your choice below to access availability calendars, rates, and property information.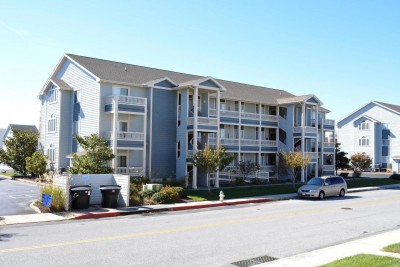 Baywatch III 102 is one of Ocean City's finest vacation rentals and one of our homiest. The balance of warm and cool tones makes you feel welcome and calm. The natural light from the glass doors and windows highlights the pristine nature of the condo. Relax on the balcony and observe the stunning blue-green of the canal. Go for a swim in the pool or take a walk along the docks. This condo is the perfect place for you and your family to call home for a few days. Come stay at the Baywatch III and make wonderful memories that will last you and your family a lifetime! This property does not allow pets or smoking. Shoreline Properties rents to families, married couples or responsible adults over the age of 25.
Amenities
BAYWATCH III 102B comes with following features and amenities: central air conditioning, wifi internet, stack washer & dryer, 2 bathrooms, cable TV, balcony facing south, refrigerator, dishwasher, microwave, coffee maker, toaster, 2 parking spaces, 4 TVs, 1 stove, icemaker, balcony furniture, disposal, ceiling fan.
This is non smoking unit. No pets allowed. Not handicap accessible.
Baywatch III Building
Located uptown on the bayside near great shopping, restaurants and the town's Northside Park, this modern three-story building features balconies for catching the bayside view along with a spacious outdoor pool and pool deck for lounging plus a kiddie pool and outside shower. Central air and 2 car parking.
PLEASE NOTE: All our properties do not allow group rentals to guests under the age of 25. Therefore, online bookings for group rentals will NOT be honored.
Baywatch III building has following features and amenities: outside shower, outdoor pool.